Facial Rejuvenation
The desire for smooth, young looking skin is the driving force behind the cosmetic procedure commonly referred to as a chemical peel and one of the most common beautification options at Centers for Health Promotion. Chemical peels use a variety of natural and man-made compounds to remove the top layers of the skin in an effort to reduce blemishes, wrinkles and uneven skin coloration.
Chemical Peels
There are many types of chemical peels to suit the varied needs of every patient; some require a milder chemical, while others sometimes use a strong solution in conjunction with other procedures such as Botox®, Thermage®, or a Suture Suspension Face Lift.
The chemical used greatly depends on the expected result. Stronger acids are used to treat precancerous growths, tough wrinkles, and blotchy skin, while weaker chemicals are used to smooth dry skin, correct acne, and improve sun-damaged skin. The type of chemical is chosen by the doctor to maximize treatment but minimize risk.
While chemical peels are some of the safest cosmetic procedures available there are still risks involved with treatment.
Depending on your situation, your surgeon may schedule one or more sessions, and ultimately you will be left with younger, smoother, and fresher looking skin. Healing usually takes a few days, and once the bandages are off the world will be amazed at the brand new you.
We use advanced formulation to provide the maximum beautification with minimal peeling.
CHP features Genevere® products.
Other popular facial rejuvenation options that CHP offers include Thermage® and Suture Suspension Lifts.
Microdermabrasion
Microdermabrasion treatments at CHP use minimally abrasive instruments to gently sand your skin, removing the thicker, uneven outer layer.
This type of skin rejuvenation is used to treat light scarring, discoloration, sun damage and stretch marks.
What microdermabrasion can do for you:
Improve age spots and black heads
Improve hyperpigmentation (patches of darkened skin)
Exfoliate your skin, resulting in a refreshed appearance
Lessen the appearance of stretch marks.
Reduce fine lines and wrinkles
Reduce or eliminate enlarged pores
Treat acne and the scars left by acne
Microdermabrasion helps to thicken your collagen – a protein in your skin that is abundant in your youth but which declines as we age. The result of thickened collagen is a younger looking complexion with taut, smooth, beautiful looking skin.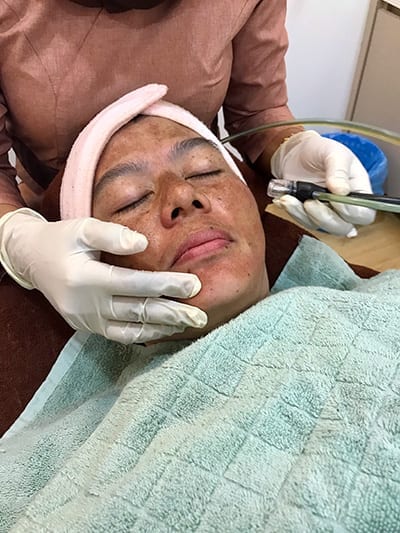 Microneedling
Microneedling is a minimally invasive cosmetic procedure that's used to treat skin concerns via collagen production. Also known as collagen induction therapy, this treatment may help those looking to reduce the appearance of acne scars and stretch marks.
You may be an ideal candidate for this procedure if you're in good health and have certain skin concerns that haven't responded to home treatments or other types of dermatologic procedures, such as peels.
This may also be a final step before considering cosmetic surgery for anti-aging and other concerns.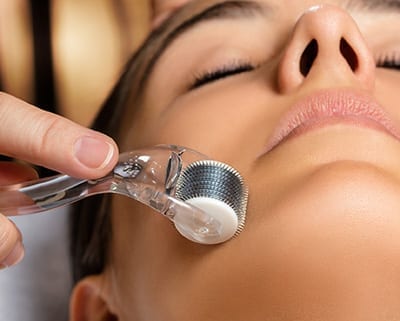 Frequently Asked Questions
Does Mesolift require surgery?
No, there is no surgery and no "down-time". You may return to your daily routine immediately.
What is involved in a Mesolift procedure?
A series of micro-injections with the mixture is introduced to the skin.
Mesolift allows the true restructuring of the skin tissue since the formulation has been fully designed to favor the different biological reactions of the architecture of the skin by supplements:
The vitamins provide an anti-deficiency function
The amino acids allow better protein construction
The minerals guarantee the ionic balance of the medium
The coenzymes activate the biochemical reactions
The nucleic acids stimulate synthesis
VITAMINS
Mesolift includes all of the vitamins required for the good exogenous biological balance of the skin:
Vitamin A acts on the flexibility of the skin by regulating the growth of epidermic cells. By acting on the keratinisation process, it favors cicatrisation and partially corrects the thinning of the derma due to skin aging.
Vitamin E is an anti-oxidant due to its major anti-radical properties. It maintains the integrity of tissue by fighting the formation of toxic peroxides.
Vitamin C helps stimulate the synthesis of collagen and inhibit the synthesis of melanin.
Vitamin D is indispensable for the synthesis of calcium by the direct action on the phospho-calcic metabolism.
Vitamin B and its sub-groups are excellent anti-deficiency substances and are indispensable for the good biological balance of the skin.
Vitamin K plays a major role in the regulation of the micro-circulation.
AMINO ACIDS
Amino acids are stable, water-soluble and amphoteric compounds that form the structural molecular elements in proteins. They are the basis of the tissue architecture of the skin.
MINERALS
A mineral salt supplement is a sign of the stimulation of different cell activities and, as a result, an improvement in the different biological metabolisms. This is particularly true for the skin.
COENZYMES
Coenzymes are non-protein organic compounds. When combined with an enzyme they improve the speed of metabolic reactions of the organism.
NUCLEIC ACIDS
Transcutaneous supplements of nucleic acids stimulate the synthesis of the noble proteins of the derma and thereby restructure the entire tissue.
What are the risks associated with Mesolift?
There is a very small chance of bruising which can easily be covered. Any potential bruising is minimized using our technique.
How long after Mesolift will I see results?
Most patients see results immediately after their first treatment.
Is the Mesolift procedure permanent?
No. If you like the results, you will most likely continue with a few sessions per year.
How many Mesolift treatments will I need?
Mesolift is usually performed in an initial series of 2 – 4 treatments spaced 2 – 3 weeks apart. The effects of Mesolift treatment are cumulative. Your body will slowly develop collagen and elastin over time.
A chemical peel is a cosmetic procedure that uses a variety of natural and manmade chemicals to remove the few top layers of the skin to remove abnormalities and encourage the growth of new skin.
How do I know if a chemical peel is right for me?
Most people want chemical peels to make their skin look and feel better, and these treatments often have beneficial effects for people suffering from the early stages of skin cancer of have excessive acne or acne scars.
How long does it take to recover from a chemical peel?
Your recovery time depends greatly on the type and amount of the chemical used. Less extensive peels have less recovery time; more elaborate chemicals necessitate longer healing periods. Your surgeon will go over these factors with you during your initial consultation.
Will health insurance cover the costs of my facial peel if it is done for medically viable reasons?
Each health insurance company and plan has different areas and extents of coverage, so be sure to contact your adjuster before committing to any procedure.
I am also getting a facelift, do I need to have a chemical peel as well?
While a facelift will increase the surface tension of your skin and cause you to appear to have few wrinkles, it cannot resurface or revamp your skin condition. Many people often combine a facelift with a chemical peel in order to maximize their appearance, but this should only be done under the supervision of a board certified plastic surgeon.
What are the common types of chemicals used in a face peel?
Depending on the condition of your skin and the results you hope to achieve your plastic surgeon will use a variety of different chemicals. For milder and less intense penetration solutions of alphahydroxy acid or Tretinoin are used. If a deeper peel is desired Trichloroacetic acid is used to remove the first few layers of skin. The deepest and most penetrating peels use the chemical phenol to completely remove wrinkles and precancerous growths.
Are there any risks associated with less invasive procedures such as chemical peels?
Any type of plastic surgery carries some risk regardless of how benign it is. Ask your board certified plastic surgeon about any concerns you might have about your face peel.