Facial Fillers
Facial fillers are among the most popular procedures at Centers for Health Promotion, and for good reason: They provide instant facial enhanement without the need for traditional surgery. Centers for Health Promotion offers the most popular filler product brands: Restylane®, Sculptra® and Aquamid®.  These are three of the newest product brands in wrinkle treatments and facial enhancement and they are available to you through CHP.
Facial Fillers – In Depth
Restylane® (temporary filler)
This Hyaluronic Acid-based ("H.A.") derma fillers can be injected into the laugh lines (labial nasal fold) that stretch from your nose to the side of your mouth. Fillers are also used to increase the volume of your lips, giving a more healthy and vital appearance. One of the main benefits of Hyaluronic Acid injections is that they carry no risk of possible patient allergic rejection.
Sculptra® (semi-permanent filler)
Semi-permanent soft tissue fillers are good options for patients who have already experienced temporary treatments and are ready for more long-term effects. They can sometimes have more significant side effects and results that, while longer lasting, also take longer to become noticeable.
Aquamid® (permanent filler)
The non-absorbable (non-biodegradable) filler that is also non-allergenic is the best for patients looking for a permanent solution to increasing the volume of the lips and nasal fold.
Facial Filler Risks
Unlike collagen injections, these second and third generation fillers are not based on animal extracts and have no risk of allergic reactions. Patients that are not candidates for fillers are those with recurrent herpes (cold sores), active herpes (cold sores), insulin-dependent diabetics (type 1), pregnancy, and many other systemic diseases, as well as those that are on anti-coagulants.
Facial Filler Facts
Hyaluranic acid-based soft tissue fillers were the fifth most popular non-surgical cosmetic procedure in the United States in 2004. Nearly 900,000 treatments were performed.
The majority of patients receiving soft tissue fillers in 2004 were between the ages of 35 and 50.
There were nearly 100,000 autologous fat transfer soft tissue operations performed in 2004.
When combined, collagen and hyaluronic acid procedures amounted to 14% of all plastic surgery procedures in the United States in 2004.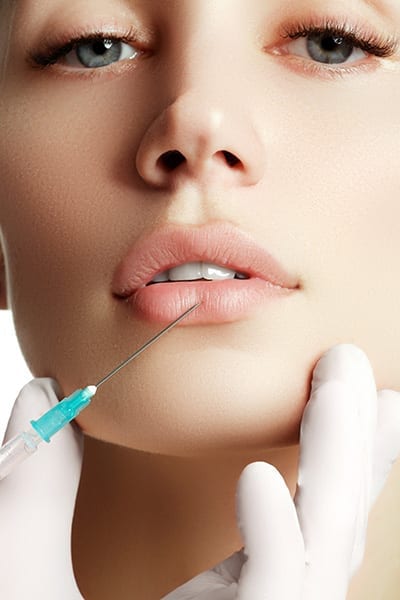 Frequently Asked Questions
Who is a potential facial filler candidate?
If you are seeking a non-surgical way to reduce the appearance of facial wrinkles and aging signs, or if you'd like to se more volume in your lips you may be an excellent candidate for soft tissue fillers. Ideal candidates should also be in good physical and mental health, with a realistic view on what the treatment can do for them. If you're frustrated by the toll aging and sun exposure has taken on your facial features, it's time to be proactive and make a change. It's time to speak with Dr. Reynolds about soft tissue fillers and other available procedures.
How soon after my filler can I return to normal activities?
Will I require general anesthesia and or I.V. sedation after my filler procedure?
How will I look and feel after my facial filler?
Patients may experience temporary swelling or redness at the sites of injection. However, these will fade quickly and can be covered with makeup. Results can be seen immediately, although some patients may require follow-up visits to ensure long-lasting results.
Are there any scars as a result of the facial filler procedure?
What complications may occur from a facial filler procedure?
Soft tissue filler treatments are non-invasive and generally extremely safe. Bruising, hardening may occur. However, all medical procedures have certain risks that can be particularly important for some patients. You should discuss any concerns you may have about soft tissue fillers with Dr. Reynolds.
How long will the results of my facial filler last?
The length of time results last is highly dependent on individual conditions. These conditions include the type of treatment, the areas treated, and the ability of the skin to use the materials injected. However, results are generally long-lasting for most procedures. Soft tissue filler treatment is a popular and effective way for hundreds of thousands of Americans to restore their appearance and take back signs of aging. Speak with your plastic surgeon about these innovative treatments today.