Botox
Botox® Cosmetic is one of the most popular temporary wrinkle removal techniques available for anyone from 18-65 years of age and one of the most common procedures performed at Centers for Health Promotion.
A Botox® cosmetic procedure is actually the trade name of Botulinum Toxin Type A, a purified toxin produced by the bacterium clostridium botulinum. Though it doesn't sound very pleasant, the procedure is a great way to soften or erase the wrinkles, expression lines (smile, frown), and fine lines that can accelerate the appearance of aging. If you're looking for a way to quickly regain your youthful look, Botox at Centers for Health Promotion is a great solution.
Botox – In Depth
How Botox Works
Botox works by relaxing the facial muscles that contract and cause wrinkles such as frown lines between the eyebrows and crows feet (fine wrinkles around the eyes). Over time these wrinkles will become permanent even when you are not frowning. You will be delighted to see how these wrinkles will smooth out over a few days and restore your face to a more youthful and relaxed look. Botox® will dramatically improve (and often vanish) horizontal forehead creases, scowl lines between your eyebrows, crow's feet, and vertical wrinkles of your upper lip. Take a look at men and women who've had BOTOX® Cosmetic treatments, and see for yourself! One 10-minute treatment—a few tiny injections—and within days there's a noticeable improvement in moderate to severe frown lines between the brows, which can last up to 6 months. Results may vary.
Botox and Wrinkles
Dynamic wrinkles, such as crow's feet, frown lines, and forehead wrinkles, are due to repetitive facial expressions. Weakening the muscles responsible for these facial expressions can dramatically improve these wrinkles. With Botox®, these muscles can be weakened without detracting from your facial expressiveness.
Botox and Safety
Although it is technically a toxin, Botox has been used safely by ophthalmologists for over 10 years and has been used for wrinkle therapy since the early 1990's, with no serious side effects documented in the hands of competent physicians. At Centers for Health Promotion in Florida, we've never had a single complication with Botox. Rest assured that the professionalism you expect and safety you need.
Prospective patients that are looking to relieve sagging skin are strongly encouraged to consider Suture Suspension minimally-invasive lifting, as it will provide results better than botox that will last significantly longer.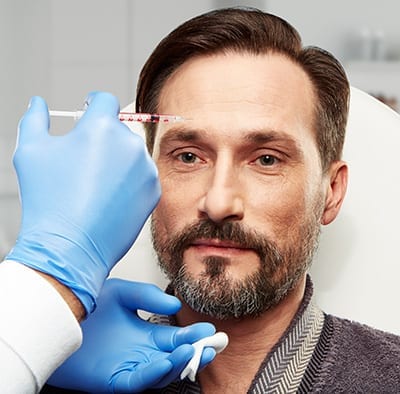 Frequently Asked Questions
Botox injections relax the muscles that create wrinkles thereby lessening the appearance of frown lines, laugh lines, wrinkles and crow's feet.
What is a Botox procedure?
A Botox cosmetic procedure is actually the trade name of Botulinum Toxin Type A, a purified toxin produced by the bacterium clostridium botulinum. Through its use, patients can alleviate fine lines, wrinkles, laugh lines and crow's feet on their face and neck. It is one of the most popular anti-aging solutions on the market today. Its results will last you several months!
Who is a potential Botox candidate?
Both men and women can benefit from BOTOX®. It is noted to be most beneficial on those patients 30-50 years of age, whose facial lines are due more to the underlying muscle pulling rather than dermal elasticity.
How soon after my Botox treatment can I return to normal activities?
Can the Botox procedure be performed in an office setting?
How are long after my Botox treatment before I notice an improvement in facial lines?
The response can usually be visualized 3-7 days after injection.
How long will my Botox treatments last?
Typically, the muscle action and wrinkles will return within 3-6 months, requiring subsequent injections. If you do not continue treatments, the frown lines between your brows will gradually look like they did before treatment.
Will I be able to make faces after my Botox treatment?
After treatment with BOTOX® Cosmetic, you may look in the mirror and see a marked improvement in the moderate to severe frown lines and wrinkles between your brows. But BOTOX® Cosmetic will not radically change your facial appearance. You can still frown or look surprised—without the wrinkles and creases between your brows.
How will my skin look after Botox surgery?
You may have a little redness and swelling, as well as a minimal amount of bruising.
Are there any scars as a result of the Botox procedure?
What complications may occur from Botox treatments?
Although complications are extremely rare, you may experience have an eye droop. For those getting their upper lip done, you will not being able to suck through a straw. All complications are temporary.